Aikido for children
Loo­king for an acti­vi­ty that hel­ps your child deve­lop in a vari­e­ty of ways?
Ethics, etiquet­te, and mutu­al respect are inhe­rent both to the Aiki­do tech­niques them­sel­ves and to the fra­mework of a mar­tial arts dojo. Balan­ced with pla­y­ful games, our Aiki­do tra­i­ning deve­lops not only postu­re and move­ment, but self-con­t­rol, deter­mi­nati­on, strai­ght­for­ward­ness, cou­rage and, abo­ve all, abi­li­ty to con­nect natu­rally with others and resol­ve con­flict without violence.
Aiki­do for chil­dren means fun phy­s­i­cal move­ment and ver­sa­ti­le education.
Under the gui­dan­ce of qua­li­fied teachers!
Inter­nati­o­nal Semi­nar for Chil­dren & You­th in our club in Novem­ber 2019.
Our tra­i­ning com­bi­nes the tra­di­ti­o­nal tea­ching sty­le of Aikido
with modern peda­go­gics and tra­i­ning methods.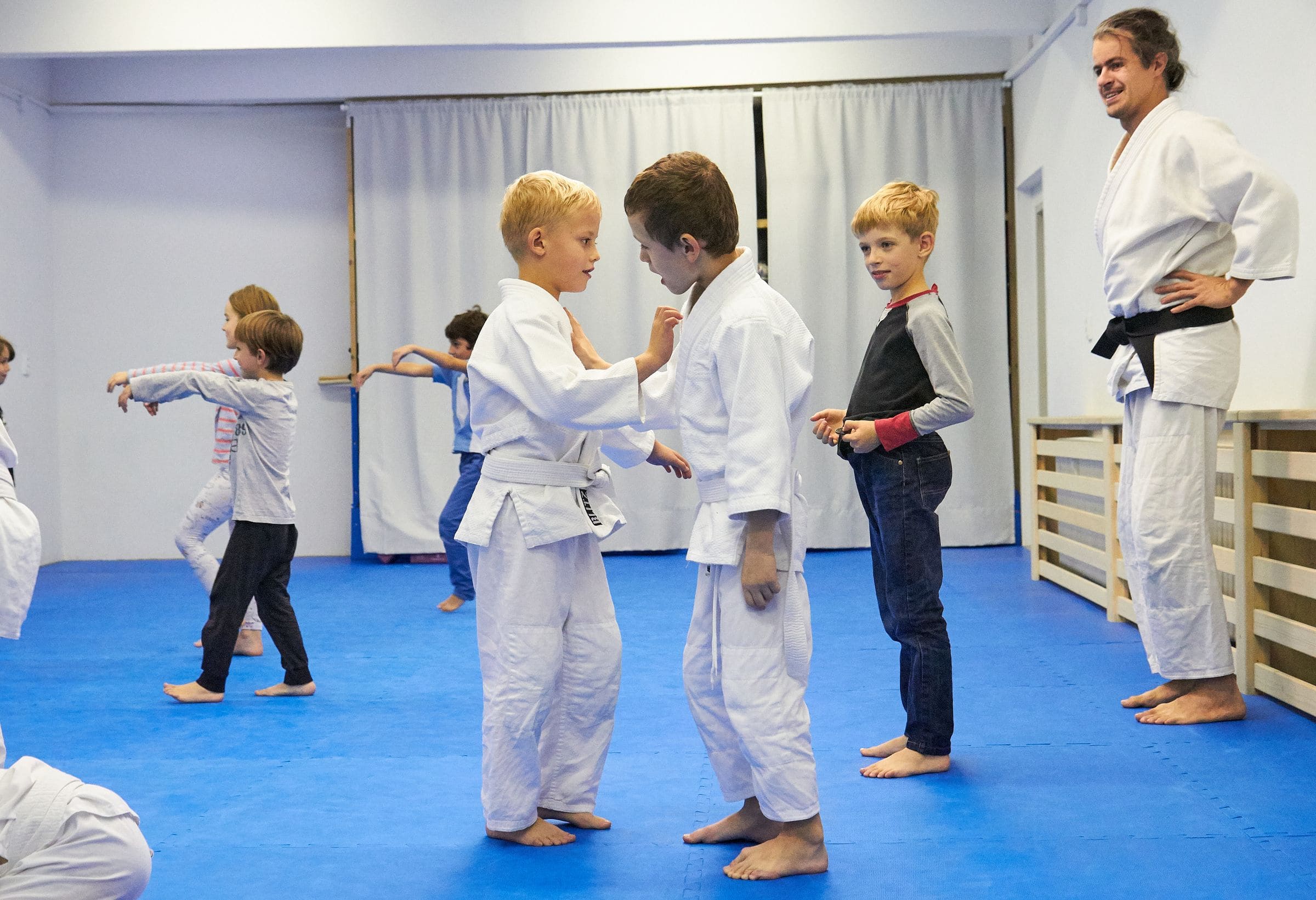 School Year 2021/22
Who: Both boys and girls age 5–13 (13+ may visit Aiki­do for You­th)
Whe­re: Pro­stor 8, Šmi­lov­ské­ho 8, Pra­ha 2
What to wear: Practi­cal athle­tic clothes
Lan­gu­age of instructi­on: CZECH. Althou­gh we are hap­py to com­mu­ni­ca­te with you in Eng­lish, should you have a Czech spe­a­king child, we ask chil­dren who tra­in with us to be com­for­table in a Czech environment.
Addi­ti­o­nal acti­vi­ties: We orga­ni­ze an annu­al inter­nati­o­nal semi­nar and an out­do­or workshop.
Fees: Our dojo is a mem­ber of the Czech Fede­rati­on of Aiki­do (ČFAI), which is reco­gni­zed by the world pre­mier Aiki­do orga­ni­zati­on the Aiki­kai Hom­bu Dojo. Mem­bers 15 years old and under pay 200 Kč a year in mem­ber­ship dues.
Tea­chers: Our tea­chers are licen­sed as tra­i­ners by the Czech Fede­rati­on of Aiki­do and enjoy wor­king with children.
Regular Training and Events
Each age group con­ta­ins around fif­te­en chil­dren and is led by a tea­cher and assistant, so your child will rece­i­ve ample indi­vi­du­al atten­ti­on. Our tea­chers hold black belts awar­ded by the world pre­mier Aiki­do dojo Aiki­kai Hom­bu and are licen­ced by the Minis­t­ry of Scho­o­ling and Education.
During the year, we also orga­ni­ze a fall inter­nati­o­nal semi­nar held in Pra­gue, a spring workshop held on a farm near Lito­mě­ři­ce, and a sum­mer trip to the Slo­vak moun­ta­ins. These acti­vi­ties are volun­ta­ry and not inclu­ded in our gene­ral fee. You can view them here.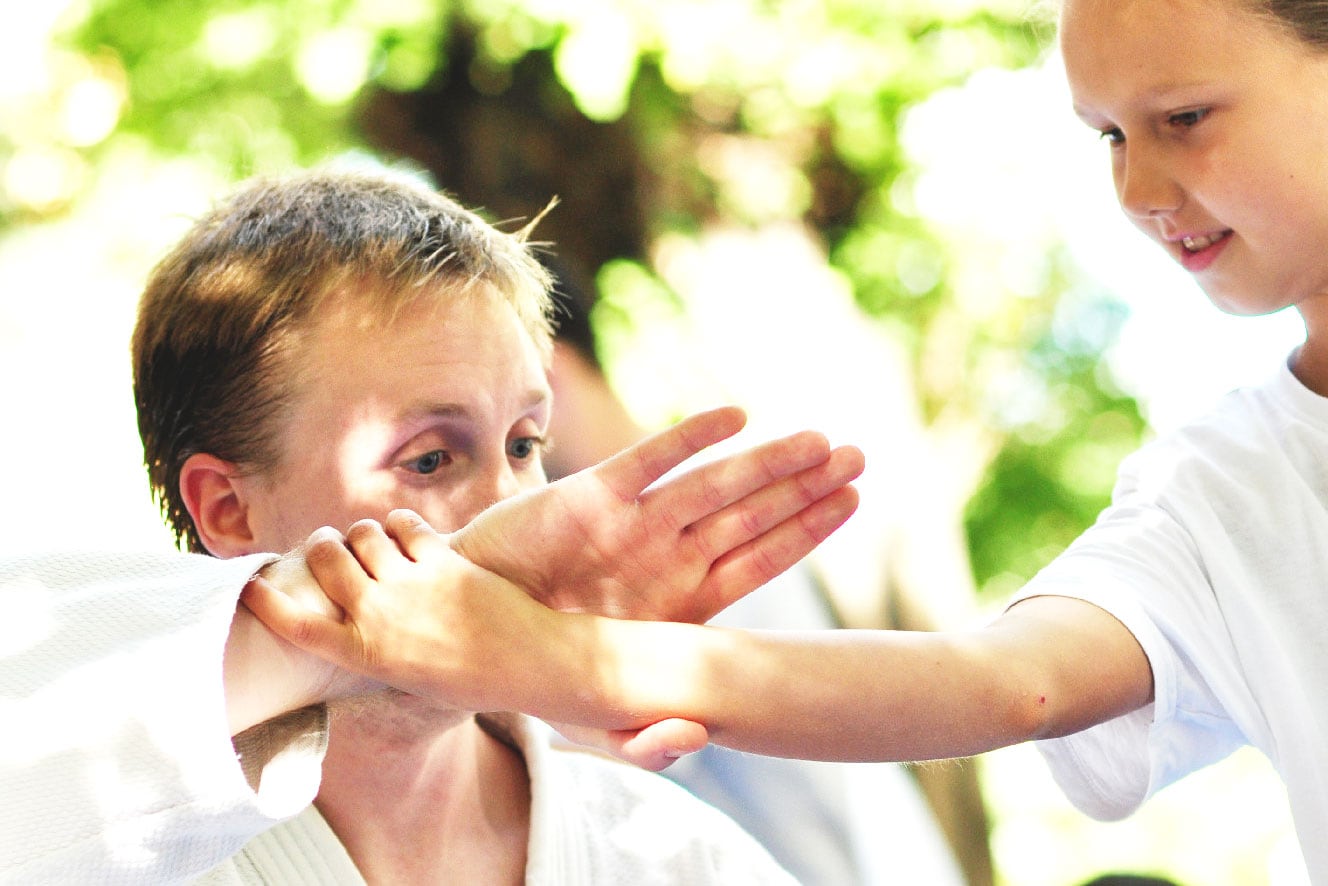 The chil­dren in our crew have been advan­cing smo­o­th­ly sin­ce 2012.
Some of them will even earn the­ir black belts early!
Online registration for the 2021/2022 school year is open!
Capa­ci­ty is limi­ted, so ple­a­se regis­ter your child as soon as possible.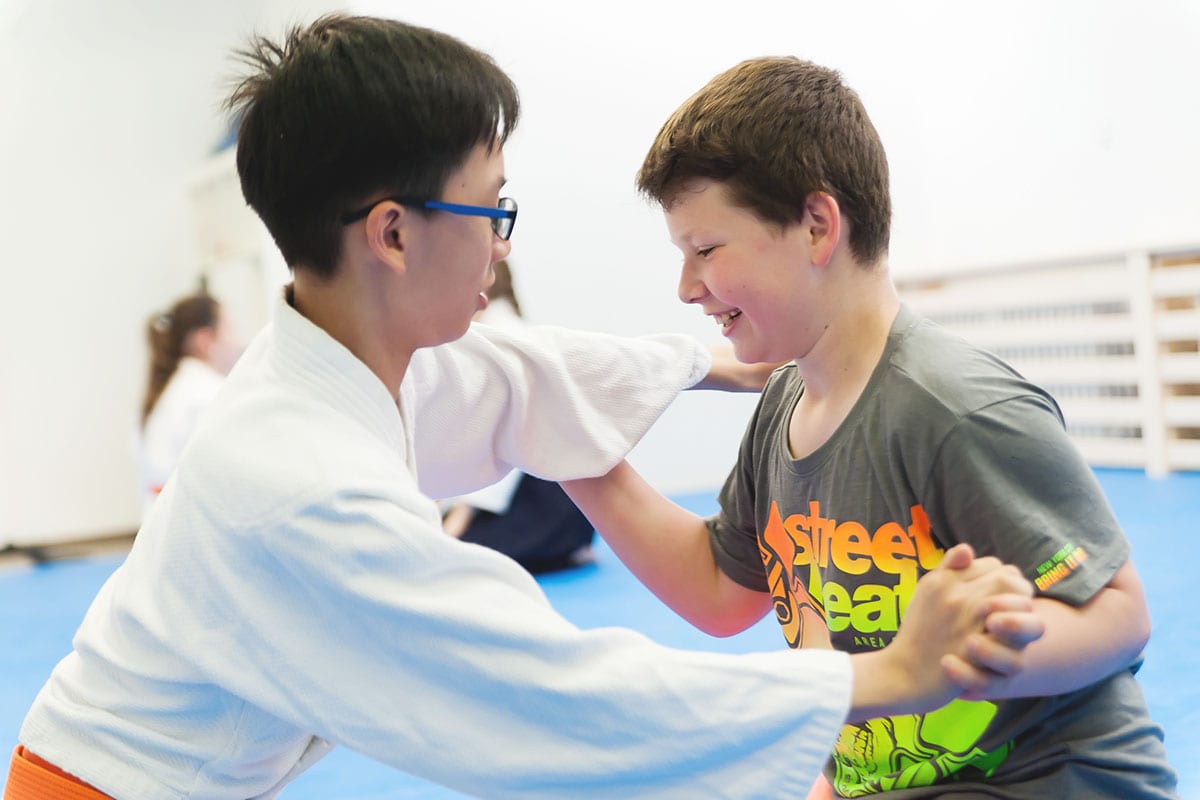 Additional Information
Aiki­do does not requi­re any par­ticu­lar phy­s­i­cal cha­rac­te­ris­tics or capa­bi­li­ties. Chil­dren take an exam once a year to advan­ce to the next tech­ni­cal level. They rece­i­ve a cer­ti­fi­ca­te and the next colo­red belt.
Tra­i­ning is held twi­ce a week–for the youn­gest once a week–with the excep­ti­on of sta­te holi­da­ys, scho­ol holi­da­ys as dec­la­red by the MŠMT, and the first and last weeks of the scho­ol year. The first and last dates are found in the descrip­ti­on of each group. Maxi­mally one tra­i­ning per semes­ter may be can­celled with pre­vi­ous announcement.
Detail infor­mati­on about con­tent and orga­ni­zati­on of our tra­i­nings can be found in our Ope­ra­ting stan­dards (in Czech language).
Online registration for the 2021/2022 school year is open!
Capa­ci­ty is limi­ted, so ple­a­se regis­ter your child as soon as possible.